Soluzioni
Display stands for travel agencies by Geprom: versatility and efficacy in the shop window.
Geprom display stands for travel agencies are extremely versatile and adaptable to all needs.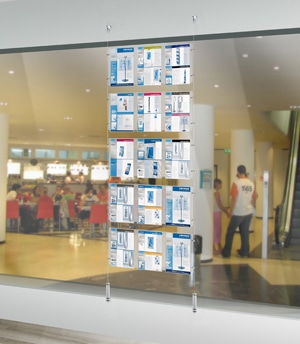 The sleek, innovative and functional design makes the display stand especially suitable for exposing the many travel ideas in logical order while at the same time being perfectly visible in the shop window. Geprom offers a wide range of display stands for travel agencies according to client needs while proposing tailor-made solutions to meet particular design issues.
The panels that host the travel offers are made of transparent shockproof Plexiglas® with a flat pocket system which makes quick changes of business communication easy. The most popular formats are standard A3 (29,7 x 42 cm) and A4 (21 x 29,7 cm) which can be arranged both horizontally and vertically. With the display stands for betting agencies client's attention can be attraced addressing the reading towards a specific offer
Decisive for travel agencies and their business communication success, is the location where the display stands for travel agencies are installed: the stands, totem and display systems by Geprom can be designed according to the size and position of the shop window. Some display stands made of Plexiglas® can be equipped with several interchangeable accessories : leaflet pockets, brochure holder and shelves  which allow a greater customization of the display stands for travel agencies.